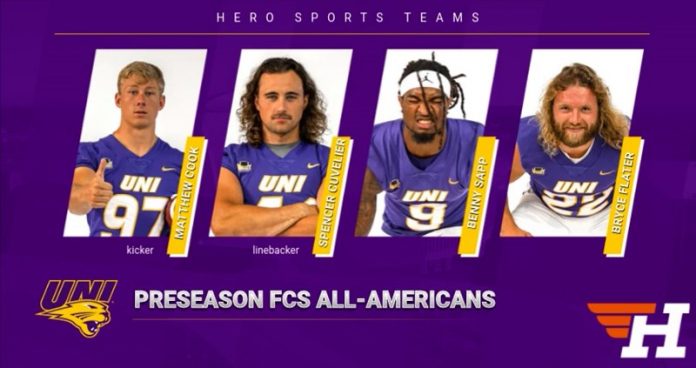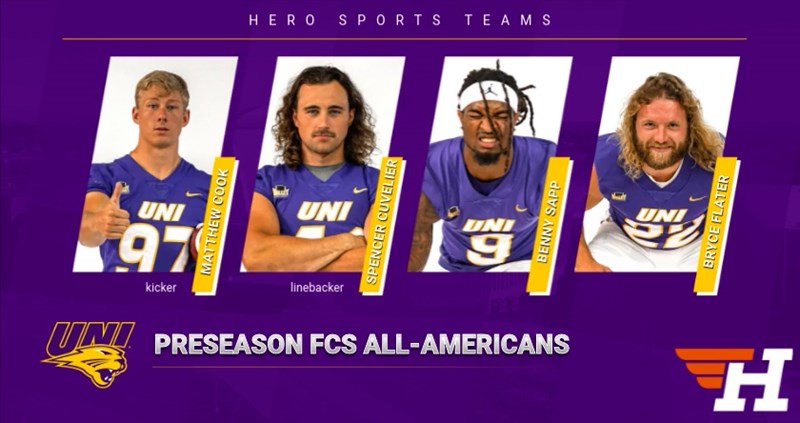 Story links
Cedar Falls, Iowa – Four Panthers have been named to the HERO Sports FCS Preseason All-American teams
kicker Matthew Cook He secured a place on his all-American first team prior to season five.
back Spencer Cuvier He was selected to his all-American team prior to the third season, having earned second team honors with Stats Perform and third team honors with Phil Steele. Cuvelier was named to HERO Sports Second Team Defense and is currently on Buck Buchanan's watch list.
Beni Saab III He earned his third honor for his all-American team with the designation of the second team. He is also named to the all-American Phile Steele (4th team defense) and The Bluebloods' Preseason Second Team Defense.
Press Filters, the full-back, broke his first team before the start of the season by naming the third team defense. Flater also earned a spot on Phil Steele's all-MVFC team as Second Team Defense.
First team attack

QB Jason Shelley, Missouri

RP Isaiah Evans, Montana

RP Isaiah Davis, South Dakota

FB Hunter Luepke, North Dakota

WR Xavier Gipson, Stephen F. Austin

WR Jaxon Janke, South Dakota

WR Taylor Grimes, Word Incarnate

T Tucker Craft, South Dakota

Noah Gendorf, North Dakota

OL Cody Mauch, North Dakota

OL McClendon Curtis, Chattanooga

OL Mason McCormick, South Dakota

OL Matthan Hatchie, UT Martin

OL Garret Greenfield, South Dakota

AP Xavier Shepherd, Kennesaw State



first defense team

Isaiah Land, Florida A&M

DL Devoncha Maxwell, Chattanooga

DL Josiah Silver, New Hampshire

DL Titus Liu, Wagner

DL VJ Malo, Portland State

LB Patrick O'Connell, Montana

LP Adam Book, South Dakota

LP Ryan Greenhagen, Fordham

LP Jacob Dobbs, Holy Cross

LP Stone Snyder, my mouth

Justin Ford, Montana

DB Anthony Adams, Portland State

DB Michael Tootsie, North Dakota

DB Ruby Hawk, Montana

DB Montray Braswell, Missouri

The team's first private team

K Matthew Cooknorthern Iowa

Grant Burkett, Missouri

LS Robert Soderholm, VMI

Isaiah Bolden, Jackson State



Second team attack

QB Team Demorat, Fordham

RB Jalil McLaughlin, Youngstown State

Malik Grant, Sacred Heart

FB Alex Ramsey, The Citadel

WR Tyrone Scott, Missouri

WR Jacob Heres, Richmond

WR Abdul-Fatai Ibrahim, Alabama A&M

TE Macallan Castles, University of California at Davis

T Kemari Everett, Python Cockman

OL Michael Corby, Villanova

OL Jaylin Hendrix, Central Arkansas

OL Mark Evans II, Arkansas Pine Bluff

OL Kyle Nunez, Stony Brook

OL Alex Jensen, South Dakota

Jake Chisholm's father, Dayton



Second team defense

DL BJ Thompson, Stephen F. Austin

DL Nate Lane, William and Mary

DL Previn Allen, Campbell

DL Jason Dumas, South

Del Ibi Anuma, Utah Martin

LB Aubrey Miller, Jackson State

David Hogg, Northern Colorado

LB Tristan Wheeler, Richmond

LB Matthew Jackson, Eastern Kentucky

pound Spencer Cuviernorthern Iowa

DB Beni Saab IIInorthern Iowa

DB Ferlando Jordan, Southeast Louisiana University

DB Eddie Hiccard, Weber State

DB Kedrick Whitehead, Delaware

DPT Okada, Montana



Second team special teams

K Nathan Robertson, Kennesaw State

B Max Quick, Stephen F. Austin

LS Dalton Godfrey, South Dakota

RS owner flowers, Montana

Third team attack

QB Shedeur Sanders, Jackson State

RB Darius Hill, Central Arkansas

RP Gino Hess, Simo

FB Coy Williams, Davidson

WR Andrei Iosivas, Princeton

WR Jadakis Bonds, Hampton

WR Avanti Cox, Southern Illinois

TE Zach Heins, South Dakota

TE Ryan Miller, Foreman

Nick Correa, Rhode Island

OL Noah Atagi, Weber State

OL Nash Jensen, North Dakota

OL Colby Sorsdal and William & Mary

OL Tavon Matthews, East Tennessee

AP Dylan Loeb, New Hampshire



Third team defense

DL Jordan Lewis, South

DL is an important owner, Lafayette

DL Caleb Sanders, South Dakota

DL Eli Mostaert, North Dakota

DL Alex Gubner, Montana

LP Thai Buick, Chattanooga

LB Callahan O'Reilly, Montana

LB Brock Mogensen, South Dakota

pound Press Filtersnorthern Iowa

LB Kelechi Anyalebechi, UIW

DB Mart Mapo, Sacramento State

DB Kerik MacDonald, Missouri

DB Jordan Jones, Rhode Island

DBBJ Buehler, Florida A&M

DB Isaias Guthrie, Delaware



Third Team Teams

Jerry Rice, VMI

B Ryan Coast, Monmouth

LS Steel Judy, The Castle

RS Jah'Marae Sheread, Florida A&M